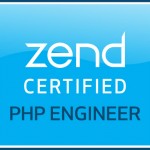 Yesterday, December 8th, 2014 I took the Zend Certification exam and passed. The latest version of the Zend exam is based on PHP version 5.5. They have updated their syllabus to reflect this change. And also, Zend made their official study materiel available to buy from their website for $19.95. It was available free of cost before.
I took the decision to write the Zend certification about 2 years back. But things have changed so quick in my life that I couldn't even prepare for the exam. I've seen a lot of posts on the internet about the tricks and tips to pass this exam, and a bunch of sample questions. So I am not going to write similar post. If you would like to pass the exam, here is my suggestion
Study Strings and Arrays thoroughly. Don't just read those pages, write the code and try to execute. Use a pen and paper if you need. If you study almost all functions mentioned on those pages, you will certainly get 50% of the pass mark.
In addition to those, here is what I found, will give you additional points.
Continue reading "Passing Zend Certification Exam, Here is the tip!"