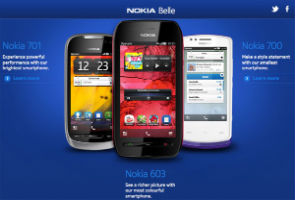 After relegating its Symbian Operating System for Mid range devices, Nokia has further hurried the ageing platform's demise by retiring the Symbian name itself, and renaming the OS to simply Nokia Belle.
A statement on Nokia Conversations said "The all new Nokia Belle (previously Symbian Belle) user interface will soon be available for download to some existing smartphones and begin shipping with a selection of smartphones that are already on the market."
Devices like the Nokia 603, 700 and 701 are now simple powered by Nokia Belle -formerly Symbian Belle.
Looks like Nokia is trying to get rid of the stigma caused by the Symbian name and rightly so as Nokia Belle offers a refined interface involving lesser steps for general tasks, resizable widgets and a dropdown notification menu system similar to Android and iOS 5.
Source: Ndtv