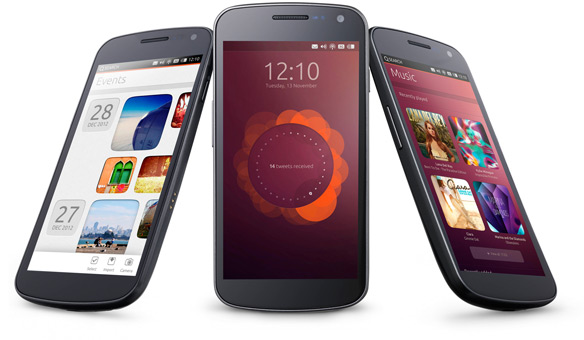 Ubuntu, the world's favourite free PC desktop operating system is coming to Smartphones. The commercial sponsor of Ubuntu, the Canonical Ltd announced its new smartphone interface on this January and will show off the Ubuntu OS at the International CES a major technology-related trade show.
With all-native core apps and no Java overhead, Ubuntu runs well on entry-level smartphones – yet it uses the same drivers as Android. So now it's easy to bring a better experience to customers all over the world.
Ubuntu uses simple natural swiping gestures from the edges of the screen to make it easier than ever to access your content and switch between apps. Every edge of the phone is used, letting you move faster between apps, settings and content.
Web applications sit alongside native apps on Ubuntu.
They get their own icons and the same access to system notifications. So apps like Facebook, Twitter, Google Maps, Gmail and Spotify are all available – and thanks to Ubuntu's web app APIs, it's easy for web developers to install their
sites as full applications.
But Ubuntu isn't limited to HTML5. Native apps are blazingly fast, taking advantage of the full capabilities of the phone's processor and graphics hardware. And a mobile SDK does most of the work to give you that gorgeous, distinctive Ubuntu look and feel.