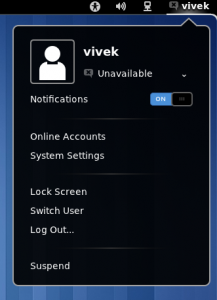 Recently I upgraded the Ubuntu system to Gnome 3. I was pretty much impressed with its easiness, so decided to keep it. The version I am using now is Gnome 3.2. However, I found that my favorite "Hibernate" feature is missing in Gnome 3.
Gnome 3 panel shows only Suspend function. However holding down the Alt key will change Suspend to Power off. Clicking on the Power off button will show you another alert message from where you will be able to reboot or shut down the system. But where is Hibernate ?

Gnome 3 does not have an option for hibernating. A google search shows that installing an additional package called gnome-shell-extensions-alternative-status-menu will add the power off and hibernate button to the drop down menu. However, this trick didn't work on my system for some reason.
At last I found a command helped me to hibernate. The below command will instruct ubuntu to go to hibernate mode.
[code]
sudo pm-hibernate
[/code]
However, when the system wakes up, it won't ask the password to resume the operations. Therefore we have to lock the computer before it goes to the sleep mode. To do so, we can use this command.
[code]
gnome-screensaver-command –lock
[/code]
The result of the combination of these two command is the hibernation with lock.
[code]
gnome-screensaver-command –lock ; sudo pm-hibernate
[/code]
However, I didn't want to type these commands every time for hibernating. I wanted to use mouse for hibernating.
[code]
sudo ls ;
gnome-screensaver-command –lock
sudo pm-hibernate
[/code]

Therefore, I saved the above commands as hibernate.sh and chmod it to 755. Then I double clicked on it and selected Run in Terminal. A terminal window appeared asking root password, and when I entered the root password, the system went to hibernate mode.