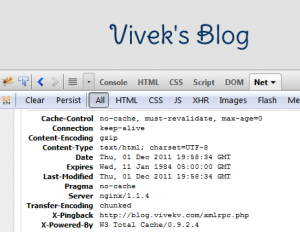 My Blog has received around 900 page views for the last 7 days! Today I noticed that my blog is loading slow when I tried to post an article and upload some images. The blog was on a cPanel VPS. As you may already know, cPanel is a resource hog and hosting WordPress on a cPanel box with unoptimized mysql is really a bad idea when the blog gets some hits. So finally I've decided to move to a new VPS.
Thus, I've created a new VPS with CentOS 5 32bit Operating System installed. My first plan was to install Apache on it, but later I've decided to give Nginx a try after reading this article on WordPress.org
Installing Nginx with PHP-FPM on a server and configuring it with WordPress is really a time consuming task. And I have done it today.
Thus, I've installed the following
NginX, MySQL, PHP 5 with FPM, XCache, PureFTPD and PhpMyAdmin.
It took an hour on my vps since the CentOS image that I used, was an outdated image, so I had to wait quite a few minutes watching it updating the packages using yum.
I've successfully copied the posts from the old WordPress installation to the new installation and switched the IP in the DNS Zone. This site is now powered by NginX Webserver!
The best part of this setup is that, the VPS is using only less than 100MB of memory, and my site is now loading fast 🙂
For low cost VPS hosting solutions, contact SunShell Hosting